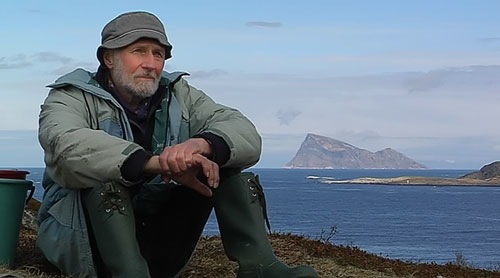 Siste sommer på Hekkingen -
NRK Faktor

Nord for Senja i Troms, på den værharde kysten mot storhavet, ligger det fredete egg- og dunværet Hekkingen. Det over 200 år gamle hovedhuset har vært forfatteren Kjell Fjørtoft (76) sin "skrivestue" siden han kjøpte øya i 1966.


Alle som besøker Hekkingen, vil oppleve at dette er et sted der tanken får både fred og rom. Lyset skifter uavbrutt over det rike fuglelivet. Skule Eriksen har kjent Kjell Fjørtoft i mange år. Da han fikk høre at Fjørtoft skulle selge Hekkingen, tok han med seg et kamera og tilbrakte den siste sommeren sammen med ham på denne værharde og vakre øya.


Utbrent uten Hekkingen

Kjell Fjørtoft har bodd på Hekkingen i sommerhalvåret helt siden 60-tallet. På Hekkingen har han klekket ut ideer og gjort forarbeidet til sine bøker. Så har han fisket og plukket egg og multer. Når høsten kom, forlot han øya og reiste inn til Tromsø for å gjøre ferdig boka. Han sier selv at Hekkingen er en forutsetning for at han har orket å skrive så mange bøker. Skulle han bare ha sittet inne i byen, ville han ha vært utbrent for lenge siden.


De som tapte krigen

Kjell Fjørtoft har vært opptatt an den nord norske krigshistorien. Han har utgitt 19 bøker, 10 av dem om krigen. I bøkene om krigen skildrer han ofte de som havnet på feil side, enten de var spioner i russisk tjeneste eller frontkjempere for tyskerne. Hans prosjekt har vært å skrive taperne inn i krigshistorien. Men han har også skrevet bøker om hverdagsliv i Nord-Norge. Enkeltmenneskes skjebne er en rød tråd gjennom hele hans forfatterskap.


Kommunistjævel og hirdgutt

I flere bøker skrev Kjell Fjørtoft om uretten som ble begått mot partisanene i Finnmark etter krigen. Da kong Harald kom til Kiberg i 1992, ba han partisanene om unnskyldning for måten de var blitt behandlet på etter krigen, og dette var ikke minst takket være Kjell Fjørtofts bøker. Men hans engasjement for de svake har hatt sin pris. Da han skrev om partisanene, ble han utskjelt anonymt som "kommunistjævel", og da han skrev om frontkjemperen og om landsvikoppgjøret, ble han stemplet som "hirdgutt" og mottok drapstrusler. Dette gikk sterkt innpå ham, og på midten av 90-tallet orket han ikke å skrive mer.


Siste sommer

Etter et langvarig ekteskap ble Kjell Fjørtoft skilt og levde alene i mange år. For ni år siden møtte han den 34 år yngre Kjersti Sønderland. Hun gav ham skrivelysten tilbake, og han skrev boka "Menn av is og kulde" om fangstfolkene på Svalbard.

De siste årene har Kjell Fjørtoft hatt kreft, og sykdommen har tært på kreftene hans. I 2006 valgte han å selge Hekkingen. En sen høstdag i oktober pakker han og Kjersti de få tingene de skal ha med seg og forlater Hekkingen for godt.

Kjell Fjørtoft døde 14. mai 2010 80 år gammel.


Foto, klipp og regi: Skule Eriksen

Produsent: Lisbeth Dreyer

Musikk: Savva Savvas
Lengde: 28 min
Produksjonsår: 2007


Dokumentaren hadde premiere på TIFF i 2007 og ble sendt på NRK1 22.01.07 og 30.07.07 i NRK-Faktor.


Last Summer at Hekkingen


At the coast of Northern Norway lies the island of Hekkingen. Since 1966 this has been a writer´s retreat for Kjell Fjørtoft (76), author of numerous documentary books.

Anybody visiting the island of Hekkingen will experience a peace og mind. The light is constantly shifting over this bird island. Director Skule Eriksen knew Kjell Fjørtoft for many years. When he heard that the writer was going to sell Hekkingen, he brought his camera and stayed with him for the last summer at this harsh and beautiful island.

Ever since the sixties Kjell Fjørtoft had spent half the year at Hekkingen. He developed his ideas and researched his books at the island. In between he spent his time fishing, gathering eggs and picking berries. When autumn came he went back to the city of Tromsø to finish his books. He says that his life at Hekkingen made all his books possible.

Kjell Fjørtoft wrote 19 books, 10 of them from the war. In his books he often writes about people who ended up on "the wrong side", as spies for the Russians or on the German side in the Eastern Front. His project was to include the losers in the official war history. But he also wrote books about every day life in Northern Norway. The destiny of ordinary people was the focus in all his books.

In several of his books he wrote about the injustice wrought upon the partisans in Finnmark after the war. When King Harald came to Kiberg in 1992, he apologized to the partisans for the way they were treated after the war, and this was thanks to Kjell Fjørtoft´s books. But his books touched upon bitter conflicts in the region, and Kjell Fjørtoft experienced threats and anonymous calls. At the middle of the nineties he felt he could not write anymore.

After a long marriage, he had lived alone for many years. Nine years ago he met the 34 years younger Kjersti Sønderland. His joy of writing returned and he wrote the book "Men of ice and cold" about the hunters of Spitsbergen.

In recent years Kjell Fjørtoft has suffered from cancer. In 2006 he chose to sell his beloved island Hekkingen. In late october he and Kjersti pack the few things to bring with them and leave Hekkingen for good.

Kjell Fjørtoft died 14th of May 2010, 80 years old.


Filmed, directed and edited by: Skule Eriksen
Producer: Lisbeth Dreyer
Music: Savva Savvas
Length: 28 min
Financing: NRK, West-Norwegian Film Center, North-Norwegian Film Centre.
Year: 2007

The documentary had its premiere at Tromsø International Film Festival in 2007 and was broadcasted on NRK the same year.




[Sleeker_special_clear]