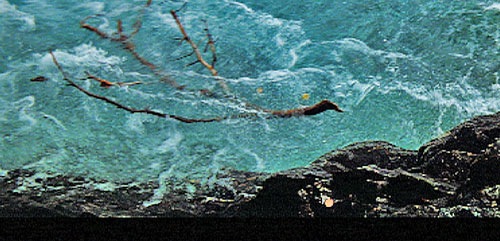 Det nytter ikke med ord

Det nytter aldri med ord
Hvis du skal si noe viktig
(Hans Børli)

En film om vassdraget Øvre Otta før det ble utbygget for å produsere strøm. Filmen benytter et filmspråk hvor stemninger, følelsesuttrykk og indre opplevelser står sentralt. Dette er en kort film uten ord, satt sammen utelukkende av vakre og slående bilder fra Øvre Otta, med foto av Sten Holmberg. En tung pust, fossedur, eller lyden av en åpen, dørgende stille fjellnatur, er effekter som veksler på å ledsage bildene.

Filmed, edited and directed by Skule Eriksen
Producer: Lisbeth Dreyer
Sound and Music: Øistein Boassen
Format: DVCpro HD 1080i 50, 25p
Screening format: DCP, DigiBeta, Blu-Ray, DVcam, HDV
Length: 24 min
Financing: The Norwegian Film Institute, West-Norwegian Filmsenter.
Produced in 2009.

FILMPRISER:

Terje Vigen Prisen, Den norske kortfimfestivalen i Grimstad. 1988


Regi og klipp: Skule Eriksen
Foto: Sten Holmberg

Lyd: Håkon Lammetun

Lengde: 8 minutter
Format: Super 35mm (Beta SP)

Premiereår: 1998
På kino og dvd
Case 216 B

A film about Øvre Otta before the hydro power development of the waterways. The film expresses itself through moods, emotions and inner experiences. It is a short film without words, exclusively composed of beautyful and striking images of the river. A heavy breath, the roar of a waterfall or the silence in the mountain landscape are among the sounds that accompany the images.

Filmed, edited and directed by Skule Eriksen
Producer: Lisbeth Dreyer
Sound and Music: Øistein Boassen
Format: DVCpro HD 1080i 50, 25p
Screening format: DCP, DigiBeta, Blu-Ray, DVcam, HDV
Length: 24 min
Financing: The Norwegian Film Institute, West-Norwegian Filmsenter.
Produced in 2009.


AWARDS:
The Terje Vigen Prize, The Norwegian Shorftilm Festival, Grimstad. 1988


Regi og klipp: Skule Eriksen
Foto: Sten Holmberg
Lyd: Håkon Lammetun

Lengde: 8 minutter
Format: Super 35mm (Beta SP)
Premiereår: 1998
På kino og dvd

[Sleeker_special_clear]